Training Motorcycle Mechanics in Ghana
"Hey Mike, are you sitting down?"
That's how the conversation started when I called my close friend Mike from Minnesota. He was driving his pickup, and when I asked him if he wanted to go to Ghana, Africa, his response was, "I need to pull over"
His next statement was even more humorous, "How do you spell Ghana?"
At the 2016 Global Missions Health Conference, Kingspride Hammond invited us to do an I-FIX training along with Teach to Transform who was asked to do a medical training at the same time. Kingspride is a long time ITEC partner and friend in Tamale, Ghana, and founder of the Alabaster Project. He started with I-DENT many years ago and has expanded to offering vision exams as well. His ministry has grown exponentially and they stopped counting the number of people reached when they hit 40,000!
I was excited to explore this opportunity, but wanted to reach out to Mike to see if he was willing to come. Mike is a Christ-follower, amazing technical genius, farmer, and owner of a truck repair and machine shop in Minnesota. For light reading, Mike will sit down at night and read repair manuals. I have been sending him the I-FIX curriculum as it expands for critique and suggestions. He's a wonderful person to have alongside to teach small engine repair and maintenance.
The Training Begins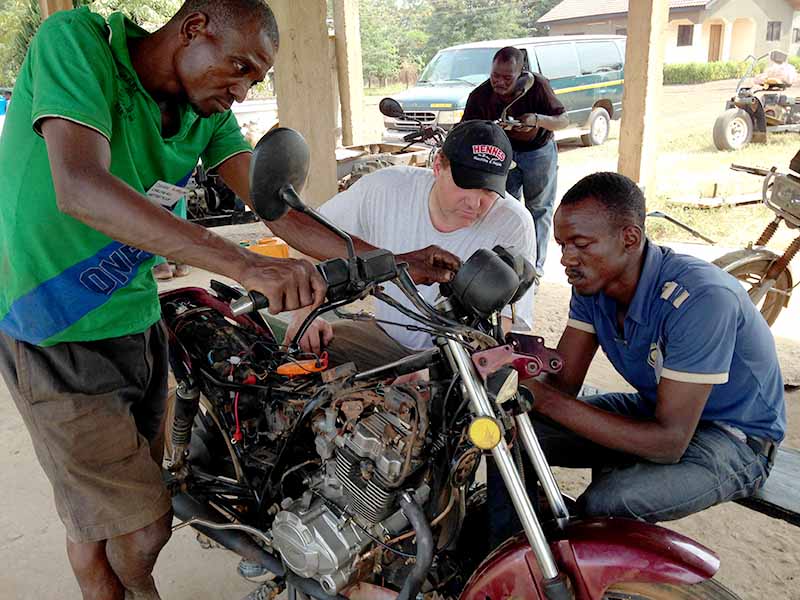 Mike and I met up at JFK before taking the long flight to Ghana. As soon as we arrived in Africa we hit the ground running on our five-day training course. The first and most important topic we covered was the 'why' of this training. It would have been easy just to focus on the technical learning, but all of the students understood that this training exists to open doors to the Gospel.
While English is the main language spoken in Ghana, dialect or accent barriers can surface. We were blessed that two of the students had attended the previous I-FIX training in Ghana back in August. These students were able to help translate and instruct the new students, as well as learn a more advanced curriculum with Mike. Most of the students were tinkerers, and all were more than willing to get their hands dirty.
We combined the classes for days three through five, focusing on motorcycle maintenance and repair. If you've ever been outside of North America, you know that a large majority of the world runs on small-engine motorcycles. Most of the bikes in Ghana are knockoffs of the Honda CB125. (In fact, according to the manual, there are more than one hundred versions of this particular bike!)
Because of this dependence on small-engine motorcycles, basic maintenance and cleanliness are among the biggest issues we see. In order to deal with these issues and troubleshoot others, students must know the basics of tools and how engines function (which we cover in the first two days of training).
Why Do Motorcycle Training?
In Missions Dilemma, Steve Saint discusses a North American's difficulty understanding the context in places we are serving. For example, in the United States, we simply replace things when they break-down. In places like Ghana, replacing a motorcycle when yours breaks isn't an option at about $800 a pop-especially when the average daily wage is around $5.
Our temptation as North Americans is to solve this problem by sending motorcycles to a country like Ghana. But simply donating new bikes doesn't help the local economy, or teach owners to maintain this new bike better than the last. That's why we're excited to see Christ-following students learning to maintain and repair motorcycles. They will be able to sustain and grow a small business-and share about Jesus in the process.
Completion of the Training and Graduation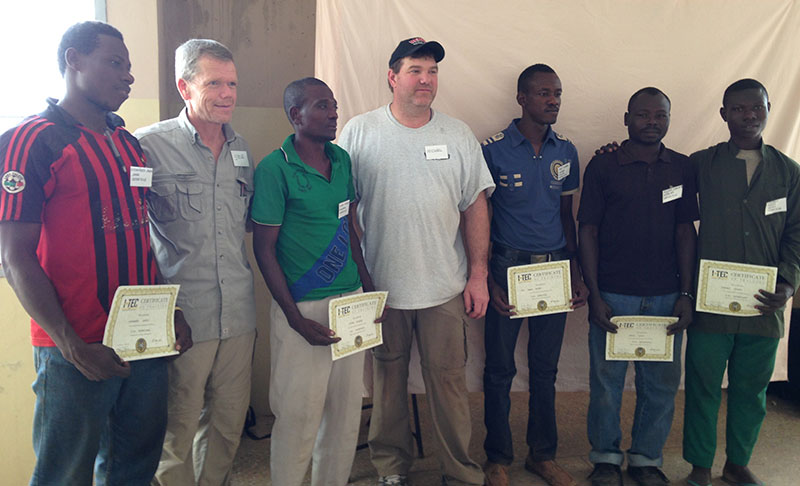 By the end of the week, students had a chance to work on over 10 motorcycles. Mike and I supervised and assisted the students as needed. Gummed up carburetors seemed to be a frequent issue, along with bad gas and dirty air or fuel filters. The most important skills we taught the students were symptom diagnosis and the importance of clean filters and components.
All five students graduated and are at the beginning of their journey to becoming skilled small-engine repairman-evangelists. The hunger to learn and the knowledge of how their skills can be used to benefit the Kingdom will serve them well as they help others in Tamale, Ghana.
Please join me in praying for God to open up doors for them to continue learning and helping others.