Before the lockdowns and quarantines began, our farming team was able to complete their first two trainings in the early part of 2020 in East Africa and West Africa. Now that the trainees have had a few months to implement the conservation agriculture practices that they learned, we are receiving exciting reports about dramatic increases in crop yield and curious community members asking, "What magic are you doing on this maize?"
Millions of people in the non-Western world are small-scale farmers who are mainly growing crops to feed their families. Unfortunately, many farmers are facing difficulties due to population growth, changing weather patterns, and their own destructive farming practices. These challenges have unfortunately led to declining yields and depleted soil.
Preparing and Training
After a year and a half of study, preparation, and practice, our team was prepared to help farmers learn a new method that would revolutionize the way people farm and create a door opener for them to share their faith with their neighbors. In partnership with Foundations for Farming in Zimbabwe and Crown Financial Ministries, our farming team developed a training program that incorporates both farming technique and Biblical stewardship principles. Students learn that everything belongs to God, and they are called to faithfully manage the resources He has entrusted to them. It is not enough to only rebuild soil; God wants to restore the hearts of farmers as well.
During the one week of training in each location, our team taught soil regeneration through the use of conservation agriculture and composting. By not plowing the fields, the soil structure is able to remain intact. Covering the soil with mulch conserves water and prevents erosion, and compost increases the organic material in the soil. Crop rotations help break disease and pest cycles and add nutrients to the soil. In just a few years, lifeless, infertile dirt can be transformed into rich, healthy soil capable of producing a large harvest.
Progress and Results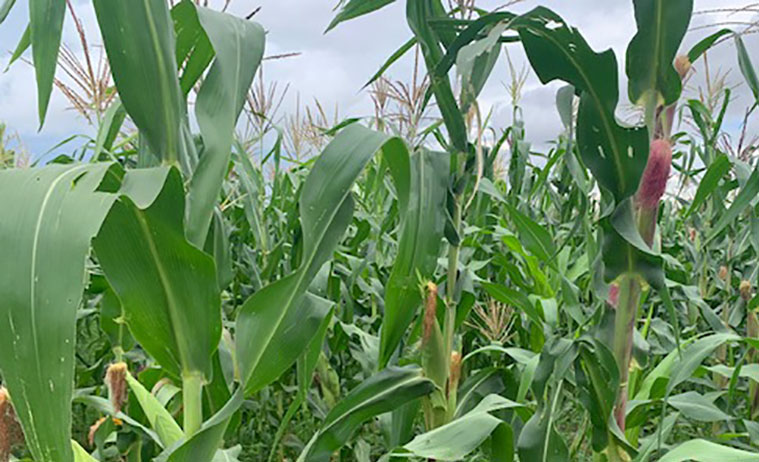 In West Africa, Silas and the other trainees have been witnessing the benefits of using conservation agriculture. Our partner recently told us that, "It's just brilliantLast year we harvested just one bag of corn on the main field. The same landusing the no-till methods you taught, is amazing this year. They will harvest in the next few weeks and it will be plenty."
John, a trainee in East Africa, was so enthusiastic about what he was learning that he began teaching his neighbors during the training week! John immediately recognized the potential to use his new farming knowledge to help his neighbors and share the gospel with them. When his country allows people to gather again, John hopes to train many others in the farming techniques he has learned and successfully implemented.
John and his fellow trainee Simeon have seen tremendous results with using conservation agriculture methodology. Using mulch as ground cover helped produce such a large harvest of maize for their ministry that they were able to use the profits to create a two acre avocado farm of 300 trees. They will also plant vegetables among the tree rows to act as a ground cover which will provide food and income for their families and their ministry.
Long-term Impact
As she reflected on the week of training in East Africa, our partner Terry shared the following, "At the closing ceremony it really hit me, the impact this teaching will have on the community and hopefully beyond. The people were so excited. We had given them a new way, a better way to farm, but also Lord willing, an increase in production as well as nutritionally better crops and produceThey have suffered, with not enough food to feed their families. A new way to farm, yes, but more importantly you gave them Hope."
This is our goal. For believers around the world to be able to offer the true hope of salvation to those who do not yet know Jesus. Skills such as farming offer a natural way for Christ-followers to connect with people around them and to share where their hope comes from. Their hope is not in an abundant harvest, but in the Lord. May we all be challenged by what Jesus told his disciples in John 15:16, "You did not choose me, but I chose you and appointed you so that you might go and bear fruit - fruit that will last."
---
Learn more about the farm training!