UAV Training in Ecuador - Week 2
The UAV program at ITEC Ecuador is proceeding quickly, and the team is encouraged by the progress made so far. The first three days of the week Aaron and Willy worked on completing the build of the second UAV (the first to be fully assembled here in Ecuador). At each stage of the process, they talked in detail about the part they were installing. Because of this teaching process, the assembly was slower than it will be when Willy is ready to sit and assemble the third UAV on his own. However, it was worth the time to make sure that Willy, and those that he someday trains, will thoroughly understand each part and perhaps avoid some of the mistakes others have made in the past.
Working on the Drop Mechanism
The men spent a considerable amount of time on the drop mechanism, a critical part in the success of the UAV. As Aaron explained, "That's a place where the control is electronic, but it's moving a mechanical device in a specific action, so you've got to calibrate it so that it moves like the program expects it to." This drop mechanism, working with the autopilot and the GPS, will release the package at just the right time and in just the right place. If the package cannot be dropped to its intended recipients, then the rest of the successful flight doesn't matter. On Thursday, the new UAV was ready to receive its brain. That means they uploaded the appropriate firmware into the autopilot and connected it all to the software program that they will use to plan flights. As is often the case with computer programs, this included debugging issues between the programs as they went along, but soon they were able to use the program to control parts of the UAV itself. They had to teach the autopilot what kind of aircraft it's in and where in the world it is, so that it can take all the unique characteristics of this point in space-time into consideration.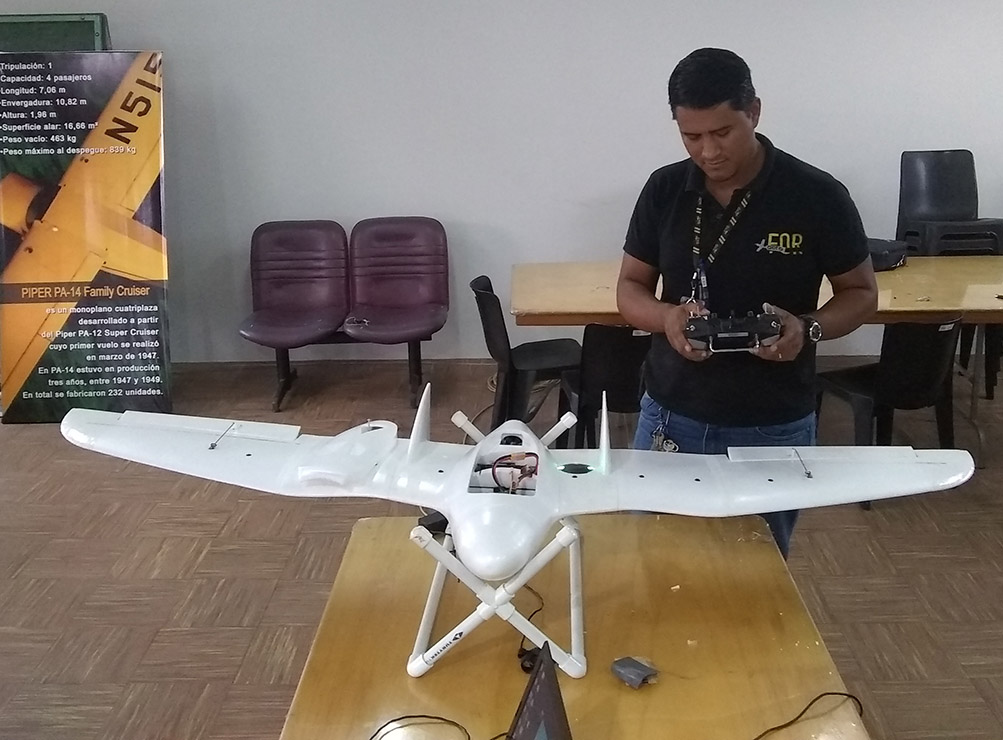 First Launches
In the afternoon, the men went out to find the field where they will be doing their first launches. This will provide a safe, close environment to make sure that all the assembly and programming is working just as it should. They also found a few sections of lonely road where they could make more complicated flight plans without straying too far from places where a car could be used for retrieval. Friday, the I-TEC team talked about the ultimate tests out in the jungle itself. They found the right villages on the flight planning software and began route planning, all of which puts the team in a great position to begin flying in the new week. Everyone is eager to get the UAVs in the air and see the results of all their careful preparation.
---
Did you miss last week's update?
http://itecusao.wwwmi3-ts4.a2hosted.com/2018/08/28/uav-training-in-ecuador-week-1/