Great News from the ITEC Hangar
A simple online search will reveal a dilemma in the aviation industry today. Becoming a pilot or an airframe and powerplant (A&P) mechanic is plagued by a high cost of entry and a large time investment. Unfortunately, many people who are interested in aviation go another direction. This current climate also represents significant challenges for Christ-followers who are passionate about missions and aviation.
A New I-FLY Apprentice
Three years ago, Philip Mull joined the team as an
I-FLY
A&P apprentice with no prior aviation experience. God simply called Philip, and he answered that call. Focusing on earning an A&P license is challenging and time-consuming. On many days, Philip found himself in contortionist positions working inside of an airframe or under an instrument panel. If those positions weren't uncomfortable enough, Florida's scorching heat and humidity in our hangar will finish the job! Being an I-FLY apprentice isn't always as glamorous as it may seem, but following God's call typically requires hard work and perseverance. Philip has shown an incredible work ethic, willingness to learn, servant's heart, and a joyous spirit even when his hands and face are covered with grease and sweat.
A New Graduate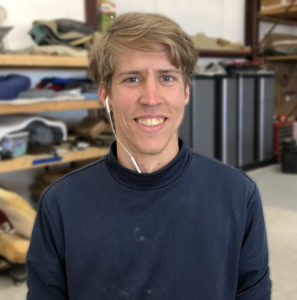 We are excited to share that Philip recently completed his 30-month apprenticeship and earned his A&P license. During his time at ITEC, he was also able to earn his Private Pilot airplane certificate and his Instrument rating. He spent time in Ecuador building an RV-10 kit airplane, in Colombia teaching I-SEE, and in Kenya spending time in a local community. While at the ITEC headquarters, Philip has also taken the
I-FILM
training and learned hands-on from our engineering team. As a graduate of the I-FLY apprenticeship program, we are excited to see what God has in store for Philip. He has a passion for evangelism, a deep knowledge of the scriptures, and currently serves as a youth leader at the church where his dad pastors. We are confident that God will use Philip's passion and skills as an aviator, mechanic, and follower of Christ to impact people's lives. Please be in prayer for Philip as he approaches the end of his time at ITEC. Pray specifically that God would continue to open doors for Philip to use his training to advance the Kingdom.
So You're Interested in Being an Apprentice?
There is often a heavy interest in the I-FLY A&P apprenticeship program, especially when we share stories about the program. ITEC's primary focus is to bring in apprentices from overseas to train at ITEC. For those who are stateside, but still interested, it's important to be sensitive to God's call and timing. We encourage careful prayer before submitting an application of interest for the program. The apprenticeship is highly selective, intense, and requires hard physical work. The time that you're actually up in the sky pales in comparison to the sweat put in on the ground, in the hangar, and studying FAA regulations. Thanks for continuing to pray for ITEC, I-FLY, the current apprentices, and future trainees God will bring!