Consult the Manual: An I-FIX lesson for us all.
I interviewed Steve Buer, the ITEC president, after he came back from Ghana in West Africa. Steve is a mechanical genius (which he'll tell me to remove from this article), storyteller (which he'll also tell me to remove from this article), and retired farmer from Minnesota. You can read about how God brought him to ITEC here. This was Steve's second trip to Ghana, and this time he went to train students in the I-FIX program with his friend Mike. Mike is a Christ-follower and fellow mechanical genius who owns his own truck repair and machine shop in Minnesota.
Motorcycles are the primary means of transportation in Ghana, other than walking. Many of these machines are not maintained and can fall into disrepair, which isn't too dissimilar to small engines in North America! The difference in Ghana is that the price tag for a new motorcycle is, in many cases, too great to afford. That explains why it's not uncommon to see 10-15 people piled on the back of a three wheel motorcycle with a bed.
Throwing Out the Manual?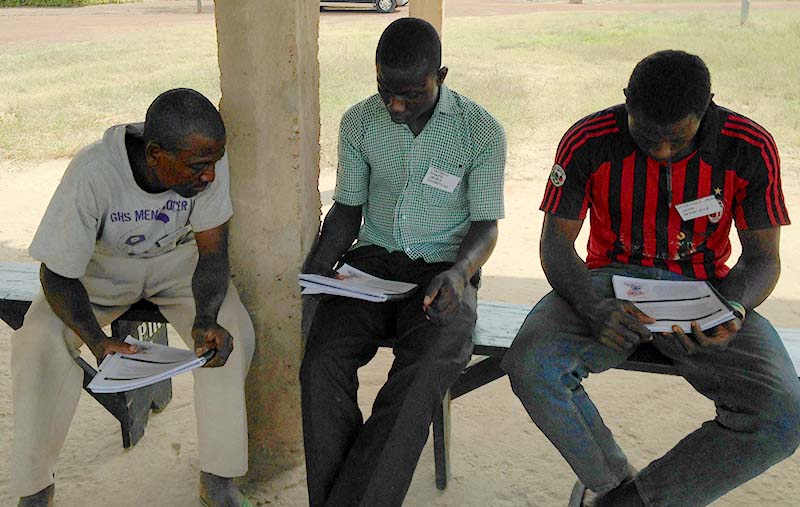 Students from the I-FIX training in Ghana were eager learners and tinkerers. When a new problem arose, their first logical step was to take the motorcycle apart. I am a tinkerer myself, and can completely relate to their sentiment. It seems like men across the globe are guilty of throwing out the instructions and going solo.
In Ghana, there was a motorcycle that came in with a battery that was not charging. The students dove headfirst into the solving the problem. Two of the more advanced students pulled out multimeters and started checking various things. Mike took this opportunity to demonstrate a valuable lesson to the students. He pulled out a manual for this motorcycle and started systematically troubleshooting the problem. This manual was a guide, made by the manufacturer, to assist in the repairing of these complex problems. There really isn't a better place to start when troubleshooting! What a great illustration for the students.
The final day in Ghana brought the I-FIX graduation, a celebration and a highlight of the week. The instructors were able to process how the week went and send the students off with some final thoughts. Steve recalled the example that Mike wisely taught to the students. "Who wrote the manual?" Steve asked. "The people who designed the motorcycle!"
"Who wrote the manual?" Steve asked. "The people who designed the motorcycle!"
His point clearly illustrated the importance of research before troubleshooting, but Steve didn't stop there. "It's just like the Bible," Steve continued. "If we aim to live life rightly, we need to use the book that was authored by the God that designed us (Psalm 139:13-16). If we want to live a life pleasing to God, there is a manual written for that." Steve told me that he thinks that message stuck.
Consulting the Author of Life
We have so much to learn as followers of Christ. It's stories and parallels like this that remind us of simple truths. In my life, in your life, we have a tendency to try and solve our own problems and get angry when our solutions don't work out. Remember that we have a perfect manual, the Bible, written by the Author of Life.
We also have the invitation to speak directly with the amazing Creator of the universe at any time! A good place to start with personal troubleshooting is the Bible, and prayer to our creator, our maker. A.W. Tozer said it well, "An honest man with an open Bible and a pad and pencil is sure to find out what is wrong with him very quickly."
Read more about the Ghana I-FIX Training:
http://itecusao.wwwmi3-ts4.a2hosted.com/2017/03/01/training-motorcycle-mechanics-ghana/